S5 to S7 System Upgrades
Project Background
One of the largest drinks production sites in Scotland required a system upgrade to their Case Conveyor and Palletisation Cell due to obsolete Siemens S5 equipment. Due to the critical production nature of the site, it was imperative the solution provided would result in a smooth migration, be thoroughly tested, and involve minimal production downtime.
Kigtek have significant experience delivering Siemens solutions, and as an Approved Siemens Solutions Partner have completed numerous S5 upgrade projects. Kigtek have a robust methodology for S5 to S7 Conversions, utilising OEM hardware, migration tools and our expertise in control system engineering.
Objectives
Kigtek worked with the client to develop a comprehensive solution meeting the following objectives:
Replace obsolete S5 PLC & IO with S7
Migrate software to S7
Minimise production downtime
Services Provided
Project Management
Control System Development
Electrical Design and Installation
Project Solution
Migration Strategy
Kigtek utilised Siemens S5 to S7 Migration Strategy and Guides which provided a range of advantages as follows:
Clearly defined migration strategy including identifying replacement S7 CPUs and IO Modules
Pre-designed rack conversion kit to ensure:

Replacement equipment fits within the existing rack footprints
Modular conversion kits resulting in fast and simple conversion
All existing IO wiring is retained resulting in minimal IO retesting
Existing schematic wiring diagrams can be retained and re-used with only minor additions to depict the conversion racks

Software conversion tools and guides to assist with:

Signal list migration
General application software migration
Guidance on manual interventions required

Reduced shutdown and re-testing times
Reduced project risk
The Migration Process
A key component and integral part of the project was the up front survey work, review of existing electrical information and obtaining of existing PLC/SCADA backups. This allowed our engineers to have a full understanding of site operations and their system before we commenced any work.
Kigtek used the standard S5 to S7 Conversion Components which included a mounting frame to accommodate the replacement PLC/IO Racks and secure the conversion harnesses, and Siemens pre-assembled and tested conversion harnesses. A software review is completed by our engineers to develop detailed migration documentation for approval from all parties to ensure no areas are missed out. As part of the installation process, as much non invasive enabling works is completed ahead of the planned shutdowns to reduce plant downtime
Project Outcomes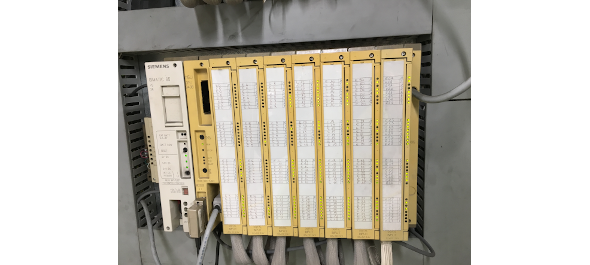 Before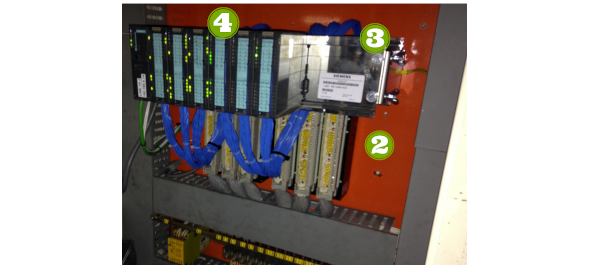 After
Existing S5 Mounts are used for new interface module
Backplate mounts within existing panel footprint
The new S7 back plate sits above the S5 module
The S7 PLC and IO sits on the new back plate
The S7 portion of the conversion modules fits into the new PLC without need to rewire field devices
As the area is comprised of 5 interconnected S5 PLC systems the changeover stage of the project was completed over 5 weekends. An implementation methodology was agreed and communicated to site via a break-in and commissioning matrix for each stage. This methodology was repeated and allowed for an efficient process reducing downtime across the 5 weekends
Due to an understanding of potential risks of migrating from S5 to S7 Kigtek built in a 'confidence check' as part of the break in tasks. This enabled the team to check the new software connected to the existing IO following the changeover, creating an additional layer of protection and limiting any start up issues.
The S5 equipment that was removed was retained as critical spares which the site were in need of, minimising any wastage.
The project was a great success for both Kigtek and our client, leading us on to continued success for S5 to S7 conversions.